News
Asan Medical Center First in Asia to Complete 1,000 TAVI Cases
AMC Heart Team records 96% success rate with 1% mortality, complications rate for high-risk elderly patients
Asan Medical Center (AMC) announced completing 1,000 transcatheter aortic valve implantation (TAVI) procedures last month, reaching a new milestone both domestically and in Asia.
The AMC Heart Institute's Heart Team - led by interventional cardiologists Seung-jung Park, Duk-woo Park, Do-yoon Kang, and Dae-hee Kim as well as cardiac surgeons Suk-jung Choo, Joon-Bum Kim, and Ho-jin Kim - performed the TAVI procedure on a 90-year old female patient with severe aortic stenosis on May 6th.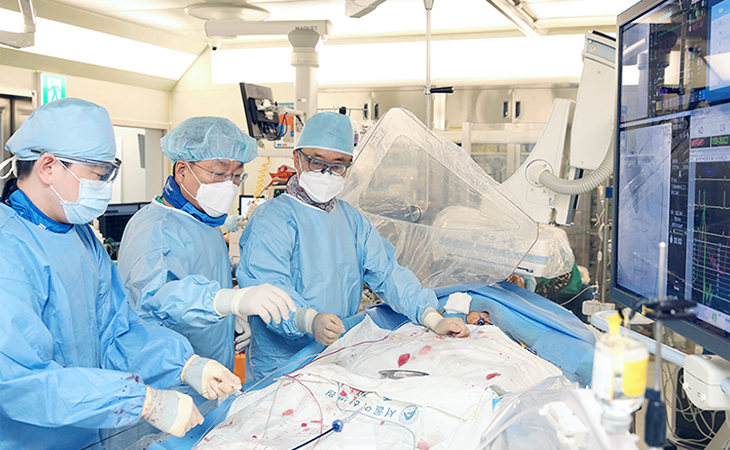 CAPTION: (From right) AMC Heart Institute Professors Duk-woo Park, Seung-jung Park, Ju Hyeon Kim performs the 1000th TAVI procedure on an aortic stenosis patient on May 6.
AMC has now become the first hospital - both in Korea and in Asia - to complete 1,000 TAVI cases, the hospital said.
The team achieved a 99 percent success rate in the past five years with an overall success rate of 96 percent, despite the characteristics of a high-risk and severe-disease elderly patient group.
Analysis showed that the average patient was 80-years old and most had comorbidities such as hypertension (80 percent), diabetes (33 percent), stroke (12 percent), and chronic obstructive pulmonary disease or COPD (22 percent).
The heart team also recorded an ¡°exceptionally¡± low rate of complications, including a one percent occurrence of both severe stroke and 30-day mortality.
¡°The Heart Team has maintained low complication and mortality rates for 1,000 patients, thanks to its organic and strong teamwork,¡± AMC Heart Institute Chairman Seung-jung Park said. ¡°We recognize and thank all members who have contributed to reaching this milestone.¡±
The 1,000th cumulative case is also this year¡¯s 100th procedure, the hospital said.
¡°Asan Medical Center has completed 100 TAVI procedures within four months and we expect to perform more than 300 by the end of this year, marking a similar or even higher procedural and success rate than medical centers abroad, such as the U.S.,¡± Professor Duk-woo Park said.
Based on these recent efficacy and safety results, domestic experts have noted the possibility of expanded reimbursements that could ultimately raise the TAVI utilization rate.
Although local health authorities currently reimburse up to 20 percent, the expansion of TAVI indications to a larger demographic coupled with better success rates may expand reimbursement, they said.
AMC Heart Institute began performing TAVIs in Korea in 2010 with a team led by TAVI pioneer Alain Cribier, MD (Hospital Charles Nicolle, France) and Seung-jung Park, and has since expanded to become a multi- and inter-disciplinary team comprised of interventional cardiologists, cardiac surgeons, anesthesiologists, and radiologists.
TAVIs at AMC Heart Institute are carried out in a hybrid operating room equipped with cutting-edge imaging devices and tailored procedural and surgical equipment.
Regarded as one of the most difficult cardio-cerebrovascular intervention strategies in the field of cardiology, TAVI is a minimally invasive heart procedure that replaces a deteriorating aortic valve in patients with aortic stenosis.
The severity and risk of aortic stenosis - characterized by the narrowing of the heart¡¯s aortic valve - increase with age and ultimately impairs the heart¡¯s ability to pump blood to the body. Severe cases are known for a 50 percent mortality rate within two years of diagnosis.
Although aortic stenosis has been primarily treated with open-heart surgery, recent advances in stenting techniques and devices have made it possible for even elderly patients with severe aortic valve disease to receive TAVI without general anesthesia.